Lawrence Tiger Test
Posted on 15 April 2019
Tiger Woods wins amazing fifth Masters 14 years after his last Green Jacket
• The 43-year-old wins 15th major by one stroke at Augusta
• Johnson, Koepka and Schauffele share second place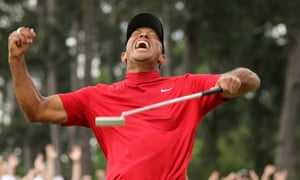 Sun 14 Apr 2019 19.29 BSTLast modified on Sun 14 Apr 2019 21.18 BST
Tiger Woods celebrates after sinking his putt on the 18th that won a fifth Masters at Augusta National. Photograph: Lucy Nicholson/Reuters
Tiger Woods wins the Masters. If ever five words did not do justice to an outcome …
Let debate now rage as to where this sits in the pantheon of sporting comebacks. Fourteen years after he last put on the Green Jacket, 11 years after last winning a major and 24 months after conceding to friends "I'm done" Woods completed a triumph which rates as extraordinary even by his standards.
It seemed poetic for the sensational act to transpire at Augusta, where Woods began altering the shape of golf in 1997. Twenty-two years on, a 43-year-old Woods celebrated more wildly than ever before in the company of his mother and children.
Tiger Woods: five-times Masters champion. The scene was barely believable. That Woods won his 15th major from the position of behind after 54 holes – something he had not achieved before – hardly registered amid the chaos.