Increasing our Australian network and facilities | October 2017
Posted on 20 October 2017

Our commitment to delivering exceptional customer service across all areas of the supply chain has seen our investment in our network and facilities continue to increase.
Over the last 3 years we have completed over a dozen significant building projects in Australia's capital cities both in our domestic and international businesses.
Further development is now taking place in other major cities - these investments are designed to optimise productivity and increase service levels for our customers.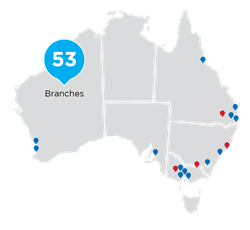 As indicated in our Annual Report we are looking to move into more key regional areas and Bendigo and Toowoomba are earmarked as locations to continue our strategy of wanting to control the delivery quality and to intensify our network.
New site | Newcastle, NSW
Projected to be completed in 2018 construction is underway on our new purpose built facility that will ensure the efficient and effective handling of freight.
1.7 hectares of land.
5,800m2 facility with 4,200m² of raised dock which will allow loaders to have better line of sight when loading your valuable product.
4 rear loading docks to increase the number of trailers that can be handled.
A further 7,200m2 hardstand.
Located at the end of the M1 Sydney Motorway with premium access to the recently opened Hunter Expressway and Pacific Highway for all local and interstate deliveries.
Site extension | Albury, NSW
We originally moved into this depot in 2012 and the last 5 years have seen our team and operations expand so much that we are now increasing the site by over 50%.
Completed in August, 2017, the extension includes 1,000m2 of hardstand and provide excellent access for B-Doubles and other large vehicles. Our Albury branch is located at 536 Dallinger Road, Lavington 2641, NSW, to find out more talk to our team here.
We welcome visitors to any of our sites to learn more about the value we can provide your business and your customers. Please contact your local sales executive to set up a time.