Celebrating 40 years
Posted on 6 March 2018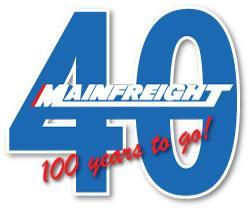 On March 6th 2018 we will celebrate 40 years in business. This is when we take the time to thank our team who have been working hard and continue to work hard in order for us to pursue our 100 year vision. Our success is directly attributed to the hard work of each of our current 7,534 team members and all the team members that have come before them.
From our humble beginning in Auckland, New Zealand with just one man and one truck, the last 40 years has seen Mainfreight develop into a global supply chain provider. In creating a 100-year company, our focus goes far beyond this year, next year or any single region or division. Our 100 year vision drives every decision we make, this is not about reaching an end-point. It's a mindset that every day and every deed is about growing a strong, iconic, enduring business. Every decision takes us towards the company we want to be 100 years in the future.
As we celebrate our first 40 years, we are clearer than ever about where to focus our energies and are excited about where we are headed. 40 years down, at least another 100 to go!