Setting Your Sights on Mainfreight Thailand
Posted on 19 November 2013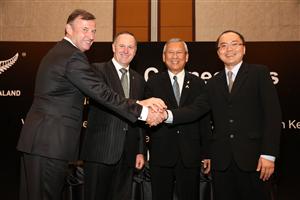 Mainfreight's Managing Director, Don Braid, is currently travelling with John Key, New Zealand's Prime Minister, and other business leaders on a trade mission to Thailand – this opportunity was the perfect platform to announce our expansion into Thailand and our newest branch in Bangkok.
At Mainfreight, we continue to invest in our future, in our people, in our network, in new facilities and new businesses worldwide. "We are excited to be established in Thailand," says Mr Braid. "The local knowledge of our Thai team, supported by our global experience and network, will provide full supply chain solutions for importers and exporters looking to trade in Europe, USA, China, Australia and of course, New Zealand".
We expect to increase our level of investment in resources and infrastructure over time to meet the demands of our customers. "We expect to double the size of this office during our first twelve months and to handle in excess of 3000 shipments during its first year," stated Mr Braid.
WHAT OUR EXPANSION INTO THAILAND MEANS FOR YOU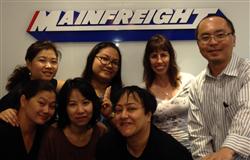 Thailand is a core for manufacturing and production of goods with a high-value such as electronics, automotive and fashion. Don Braid mentioned that Mainfreight saw Thailand as a leading economy in the 2015 ASEAN Economic Community and stated "Thailand is perfectly positioned to provide intra-Asia trade growth, as well as facilitating existing trade within the Mainfreight network."
The new branch is located in the busy metropolitan hub in Bangkok and will initially focus on international trade coming in and out of Thailand and will be able to offer our customers:
Presence in the Thailand market
Full spectrum of international shipping:
LCL Sea freight
FCL Sea fright
Air freight
Customs Clearance
Visibility in real time and on demand
Our new Thailand branch is on our worldwide network, meaning, through our online customer portal Mainchain, you can receive instant information whenever you need it.
MAINFREIGHT THAILAND TEAM
Backed by our strong Air & Ocean network in Asia, with operations in Hong Kong, Taiwan, Singapore and throughout China, our team will provide the same consistent service from our Thailand branch. Nine Thai nationals make up the new Mainfreight team led by National Manager, Withanya (Mo) Ceetantivech.
Our team are now settled at Mainfreight Thailand and ready to give our customers the service the Thailand region demands, for more information, contact our team today.