Happy Feet Head to the UK - The Successful International Movement of Penguins
Posted on 12 June 2014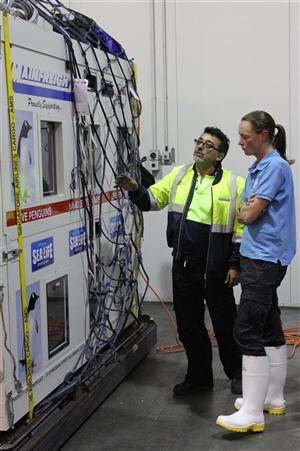 Some people think aquariums, zoos and sanctuaries are where animals are kept from their natural habitat. The purpose of these places is primarily for breeding programs ensuring their survival and our understanding of their environment.
Mainfreight plays a key role with many sanctuaries by safely transporting these animals to their new homes. Recently 12 Antarctic Gentoo Penguins travelled between Auckland, Dubai and then into the UK all while under the careful watch of the Mainfreight team.
Since our first shipment of Penguins in 2011 to Copenhagen, our Mainfreight Perishables team have continuously improved our processes to ensure the best possible transit for the birds. Mainfreight designed and built a unique pod installed with specialised air conditioners that recreates the birds Antarctic environment. The process is co-ordinated by National Airfreight Manager, Greg Giarratana.
In the air, temperature monitoring devices are mapped throughout the pod and supervised by Greg. Mainfreight has patented this design making us the only transport company to use this cutting edge technology which we see as the safest way to transport penguins around the world.
Due to Antarctia's sub zero temperatures, penguins are not exposed to bacteria in their natural environment, so any exposure outside these conditions can be harmful. To ensure precise control:
Birds remain in our cool rooms until just before departure, limiting exposure
Special arrangements with airlines allow us to load directly on the tarmac and on a "last on, first off" basis
Mainfreight are now in the process of furthering our temperature control technology and transporting more animals around the world; look out for future reports about the movement of more Penguins, Sharks and even live Crocodiles.
Interested in finding out more about our Perishables service, contact Greg and his team here.