Mainfreight's December 2011 Newsletter
Posted on 15 December 2011
The Mainfreight Team Newsletter "The Team's Board Report" is written by our team, for our team. Each of our National Managers writes a "State of the Nation" for their business, and the newsletter is sent to the home address of every one of our team. This enables them and their families to read about what is keeping each of our worldwide businesses busy. We proudly send a copy of our newsletter to our shareholders, who are also part of the wider Mainfreight family and make it available online to our friends (like you).
Not just business news, our newsletter is full of photos of and stories from and about our team. It's our way of keeping our family up to date with what Mainfreight are doing worldwide and features contributions from New Zealand, Australia, Asia, USA and Europe.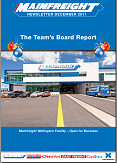 In this issue……
Mainfreight Wellington's new depot is up, running and looking good!!!....
Check out some our driver's new units……
Have you heard of Mainfreight Automotive? Kiwi Shipping? Find out more about shipping US vehicles to NZ……
Keep an eye out for our "centrefold" and Mainfreight Man even makes an appearance (or two) as does the Rugby World Cup….
If you would like to read a copy of our newsletter download a copy here – or become a shareholder to receive your own glossy hard copy or download it here!!