Mainfreight Results for Twelve Months to March 2014
Posted on 28 May 2014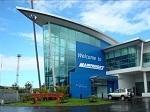 Mainfreight are pleased to announce a record full year net profit after tax and abnormal items for the year ended 31 March 2014, an increase of 36% over the previous year.
Sales revenue has increased by 2.1% and EBITDA is also at a record level of $149.19 million.
Full dividend for the year of 32.0 cents will be paid out to shareholders, an increase of 18.5% year on year.
For the coming financial year we are confident of bettering our financial performance again. Most importantly, we will maintain the momentum we have, growing Mainfreight into a substantially bigger and better business.