Mainfreight Newsletter July 2012
Posted on 17 July 2012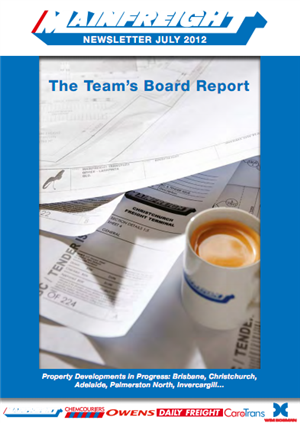 Welcome to our mid-year Team's Board Report; this newsletter is written by our team to keep our team members, customers and shareholders well-informed of the activities and development of the Mainfreight Group as we expand our network around the world. We proudly send a copy of our newsletter to each of our team members, shareholders, who are also part of the wider Mainfreight family and make it available online to our friends (like you).
In this issue…
Each of our National Managers writes a "State of the Nation" for their business
We announce new property developments: Adelaide, Brisbane, Chicago, Christchurch, Hamnia, Invercargill, Miami, Moscow, Palmerston North, and Seattle
We catch up with our four young team members who are participating in our first exchange program between Europe and Australia / New Zealand
All the news as our online freight capabilities get a major update to ensure our technology services are matching our global logistics expansion
Check out all the fun photos and stories of our growing global logistics team
We may be used to importing freight; but we also imported a world renowned expert in literacy
If you would like to read a copy of our newsletter download a copy here!