Mainfreight Financial Result for the Twelve Months to March 2016
Posted on 26 May 2016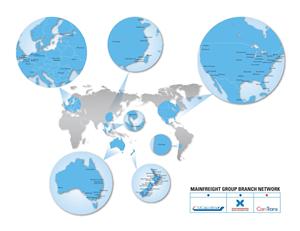 Mainfreight is pleased to announce another year of record results to 31 March 2016.
Full year net profit after tax and before abnormal items was $88.18 million; an increase
of 5.6% over the previous year.

Sales revenue for the year increased; up 11.2% to $2.28 billion (excluding foreign
exchange effects the increase is 4.3%). Our EBITDA result also set a new record at
$174.85 million; an increase of 7.8% over the prior year's result (excluding foreign
exchange effects the increase is 3.4%).

This is a satisfactory result and builds on what was a poor first half for the 2016
financial year. Better management of overhead costs, and an improving gross margin
assisted the second half results.

Geographical performance for the year saw New Zealand, Asia and Europe all with
increased EBITDA results, while Australia and the Americas recorded poorer results at
the EBITDA level, as their domestic operations struggled to improve on the year prior.
In all regions we were able to increase sales growth, as our teams continue to crosssell
our networks and products to our multinational customer base.