Don Braid awarded the 2018 New Zealand Shareholders' Association Beacon Award
Posted on 8 November 2018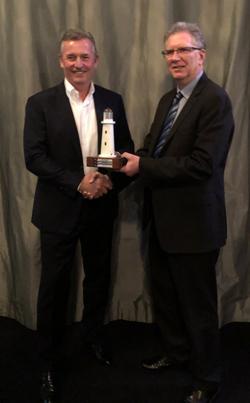 Don Braid has been awarded the Shareholders' Association Beacon Award for 2018. The annual award is given to a listed company leader who performs outstandingly across their leadership and corporate governance while respecting the rights of shareholders.
NZSA Chairman John Hawkins said "The Beacon Award guidelines have specific guidance criteria. Don Braid is remarkable in that he meets all of these. His vision to make Mainfreight a 100-year company by developing a unique culture, is a trait that is far from universal in senior management"
The Beacon Award is judged against the following criteria –
Leadership and guidance on corporate practice.
Bravery in standing out from the crowd on issues that are controversial and taking stands against the trend on issues of governance, transparency, and individual conduct.
Conducting himself/herself in a manner that is a guide to others, ignoring self-interest, and putting the concerns of others to the fore.
Behaving in a manner that is respectful of the rights of others and treating the smallest shareholder with the respect of a business owner.
Working within the rules and best practice while ensuring fair and equitable outcomes for all.
Or such other acts as may, from time to time, be identified by the executive board of the New Zealand Shareholders' Association.
Congratulations Don, thank you for striving to achieve nothing but the best for the Mainfreight Team and our shareholders worldwide.