Team building through the power of play!
Posted on 26 July 2017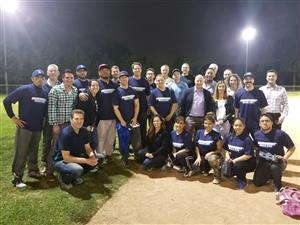 Mainfreight knows how to have fun with team mates!
The Mainfreight team in Los Angeles takes its competitive and cooperative spirit from the office to the softball field! Our team is comprised of players from Logistics, Transport, A&O, Carotrans and even visitors from recent TLS Leadership training and Peter from TLS, himself! Our games have provided everything from our recommended daily exercise, to a chance to socialize, to a renewed sense of goal-setting and competition where we blow off some steam and have fun! The final tally isn't in but fun has been through the roof!
To watch a game or join us on the field, contact Matt Friedman, Branch Manager, Matt.Friedman@mainfreightusa.com Telephone 562-295-5802