Team Building in San Francisco | December 2019
Posted on 6 December 2019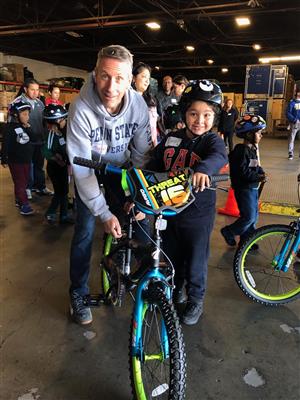 Each year, our San Francisco branch participates in a unique team building and volunteer event in support of our local communities. This year, we partnered with a local elementary school to build bicycles for 40 kindergarteners and 1st graders.
Throughout the day, the team partook in various activities, which included teaming up with the students, assembling and fitting them to their new bikes, and helping them fit and decorate their helmets. To follow, we assisted in setting up a course where the children were able to take out their new bicycles for a test ride. We closed off the day with a nice meal enjoyed together, and just before the students were able to take their bikes, helmets, and locks home!
This community event is special to the Mainfreight San Francisco team providing a significant and heartfelt experience. We look forward to staying connected with the school for future events and supporting partner and sponsor of Books in Homes. We wanted to extend one more gift to the students by shipping scholastic books that will be dispersed to the students so they can take them home to grow their home libraries.
To learn more about our partner, Books in Homes, visit http://booksinhomesusa.org/