National Truck Driver Appreciation Week
Posted on 13 September 2019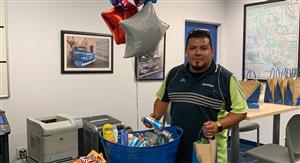 Sunday, September 8th marked the start of National Truck Driver Appreciation Week. This is a week where America takes time to honor all professional truck drivers for their hard work and commitment in tackling one of our economy's most demanding and important jobs. These professional men and women not only deliver our goods safely, securely and on time, they also keep our highways safe.
What makes Mainfreight special is our drivers and the level of excellence they deliver from the service they provide to the cleanliness of their trucks. This week we are are paying tribute to our drivers for their passion they bring to work every day. Mainfreight branches across America pariticipated in organized events and luncheons to celebrate our drivers and their accomplishments this year. Part of the values that we hold true to the Mainfreight culture is eating together as one Mainfreight family, and our drivers are definitely part of it.
Through their dedication and tireless work, truck drivers, who travel over 4.5 billion collective miles a year, deliver these goods safely and on time to every community across America -- often spending days, or even weeks, away from their loved ones.