Mainfreight SFO knocks it out of the park!
Posted on 8 June 2017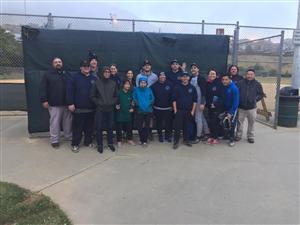 Mainfreight San Francisco has always loved being part of the bay area community. As in past years, the Mainfreighters participated in the community softball league where they made friends, earned some runs and had a great time! This season was terrific! Under the tutelage of coach Michael Ramirez, the team was able to make the playoffs for the third consecutive year! Terrific contributions both at the plate and in the field were much appreciated from Angelica Ford, Anthony Sauceda, Jay Allison, Ivan Dacula, Jason Cheng and Jackie Abedejos. Also a special thanks to Natalie Viola, Kelly Walsh, Raul Perez, Vince Lotti, Aaron Young, Kurt Watkins and Jarrod Lovell for filling in as reserves and making an important contribution to the team. As always, supporting each other is key and the team had the best cheering section in the league! Many thanks to Kari Vang, Andrea Kitz, Phyllis Takemori, Duane Vallesteros, Gerardo Cardenas, Sophia Lee and Oliver Meister for braving the cold California weather to show their support!
Working as a team and achieiving success is what Mainfreight SFO does both in the office and on the field!
Go Team!