Graduate to Future Leader: hear it from Mainfreighter, Robert Nsonwu-Farmer!
Posted on 6 June 2017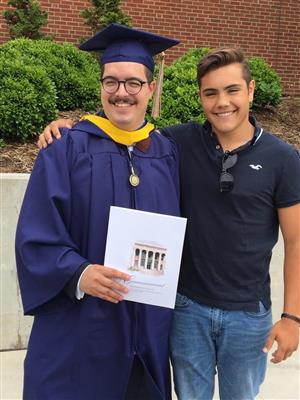 As a future leader, I am very excited to work for Mainfreight, a global supply chain company. Here, I can utilize many of the skills learned in my classroom while building experience in how the supply chain operates.
I recently graduated from North Carolina Agricultural and Technical State University with a degree in Supply Chain Management. This historic institution located in Greensboro North Carolina emphasizes high academic success, a celebration of culture, and building community. In 2017, it ranked the No. 1 HBCU in North Carolina and the No. 2 public HBCU in the nation. Also known as A&T, it offers its students state of the art facilities and training, esteemed clubs and student organizations, competitive internships, and many opportunities to attend lectures from top business executives.
During my time, I learned leadership, teamwork, critical thinking, analytical problem solving and was exposed to the exciting world of Supply Chain. These are many of the skills and experiences I have been able to utilize in my current position at Mainfreight. With every class I attended, I was encouraged to use supply chain key concepts: customer relation management, logistics, lean six sigma, and many more; and applied them into my daily routine. These concepts not only allowed me to contextualize the issues, but it helped me understand the theory on a fundamental level, giving me a greater understanding of how to become proficient in my field. I learned building stronger relationships with people can lead to long-term partnerships, planning your daily route with multiple ways could reduce wait times if something happens and reducing waste in your life can give you more time to enjoy every moment. I achieved a green belt in Six Sigma and was awarded 1st place in a school wide APICS paper competition, then leading my team to win 1st place in a Shell case about data analytics.
At Mainfreight, I get to take the theories from the classroom and apply them to real life, in a practical hands on environment. While working in International Operations, I am able to observe and learn firsthand what it takes to move customer's freight around the world. This only further intrigues me and I cannot wait to learn more from my colleagues. I have learned a considerable amount from my branch manager, Adam Renner, and can see myself in a similar position in the future. Adam has experienced many parts of Mainfreight and CaroTrans. He even had the opportunity to work in New Zealand, "where you can smell the diesel", a part in my career that I would love to experience. Even though I have many more aspirations that are academic as a lifelong learner, for whatever the future holds, one thing is certain, I cannot wait to experience the next 100 years with Mainfreight.
Robert Nsonwu-Farmer | International Operations | Mainfreight, Inc.