Mainfreight Collaborates with Books in Homes to Strengthen Literacy within Our Communities
Posted on 16 May 2018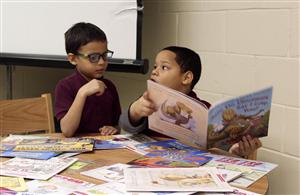 Books In Homes USA Is A 501(C)3 Non-Profit That Addresses The Problem Of "Booklessness" By Providing Disadvantaged Children With High Quality Books Of Their Own Choosing.
As the end of this academic year nears and final report cards are sent home, many parents are searching for ways they can boost their children's academic performance for the coming year. Newly published research points to a simple, effective answer: Build up your home library. Books in the home are strongly linked to academic achievement and aids in development of children's communication and literacy skills.
Here at Mainfreight, setting new targets and challenging ourselves on a daily basis is a big part of our culture. We look for it in the people we hire, the businesses we work with and the communities we support. With that said, we are a proud supporter of the Books in Homes initiative. Each participating student receives a minimum of five new books each year. As the end of the school year approaches, Mainfreight and Books in Homes partner together in visiting the participating schools to recognize one outstanding student in each location with The Mainfreight Award for Excellence in Attitude.
The goal of this initiative is to break the cycle of "booklessness" by providing disadvantaged children with quality books of their own choosing and enhance their desire to read. With literacy being one of the most important foundations for success in school and later in life, this program assists crucial early literacy engagement and supports the development of reading skills and habits needed for lifelong success.
Stay tuned and make sure you follow Mainfreight Americas Facebook and LinkedIn pages, as we will be sharing more on the end-of-year awards and book giveaways.
Since its inception 20+ years ago in New Zealand, the program known as "Duffy Books in Homes" has grown rapidly and has become a worldwide initiative. In 2008, with the help of Dr. Richard Quest and Kevin Drinkwater of Mainfreight, Books in Homes expanded it's wingspan to North America. Now, 10 years later, Books in Homes USA is serving over 70 locations that span across New York, New Jersey, Pennsylvania, Maryland, Virginia and California. Today, our partnership with the program has provided more than 560,000 books to 193,000+ children in these six states and we look forward to reaching more communities as the program continues to grow.
For more information on Books in Homes and our partnership with them, see resource links below:
Book Giveaway Event with Mainfreight - PDF
Books in Homes USA - Website
Books in Homes - Facebook
Interested in providing books to your students? Click Here
Interested in sponsorship & partnership opportunities? Click Here
Upcoming Book Giveaways at Participating Schools
Southern California
H.W. Longfellow Elementary – Mainfreight Award
Monday, May 21st
1101 S. Dwight Avenue
Compton, CA 90220
__
Catskill Avenue Elementary
Monday, May 21st
23536 Catskill Avenue
Carson, CA 90745
__
Dominguez Elementary — Mainfreight Award
Tuesday, May 22nd @ TBD
21250 South Santa Fe Avenue
Carson, CA 90810
__
Celerity Achernar Charter School — Mainfreight Award
Wednesday, May 23rd
310 E. El Segundo Blvd
Compton, CA 90220
__
Pennsylvania
P.H. Sheridan Elementary School
Friday, May 18th
800 E. Ontario Street
Philadelphia, PA 19134
__
Boys and Girls Clubs of Philadelphia — Bridesburg Branch
Friday, May 18th
2901 Bridge Street
Philadelphia, PA 19137
__
Watson T. Comly Elementary
Wednesday, June 6th
1001 Byberry Road
Philadelphia, PA 19116
__
New York
Mount Markham Elementary School
Friday, June 1st
500 Fairground Road
West Winfield, NY 13491
__
New Jersey
KIPP Camden
Tuesday, June 12th
525 Clinton Street
Camden, NJ 08103
__