Cheap Freight - The Hidden Costs
Posted on 28 August 2013
When choosing a freight provider you always want to get value for money. Choosing cheap is not always best - think about when you're buying a new appliance; yes, you can buy the cheapest version but you know you'll be sacrificing quality.
Risks of Cheap Freight
"Cheap freight" doesn't guarantee value for money. Watch out for these hidden costs when going for the cheaper option: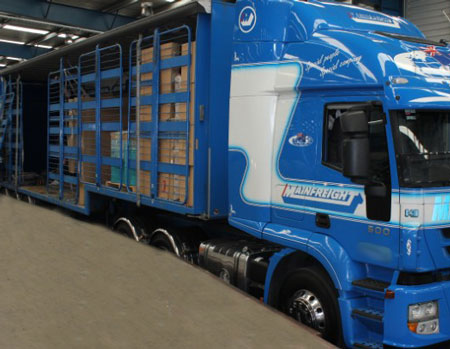 LATE - Smaller carriers may hold over freight until they are able to load a whole unit, keeping your customers waiting
LOST - Carriers without a wider network will use 3rd party carriers. This increases the chances of your freight being misplaced and makes it harder to get answers
DAMAGES - Extra handling and the lack of proper loading equipment or training can put your freight at risk
IN THE DARK - Lack of tracking capabilities leaving you with extra customer enquires
GONE - Some carriers will work on profit margins so tight that any unforeseen loss can put them out of business leaving you high and dry without your freight
What to Look for in a Freight Forwarder
There's no substitute for proper research when choosing a forwarder, but here's a few things that should ring alarm bells:
| | |
| --- | --- |
| THE BAD | THE GOOD |
| Dirty trucks, rude drivers, messy depots | Clean and organised depots, trucks and drivers |
| Lesser known brand | A well-known brand |
| Only has a presence in the bigger centres or one city | Delivery vehicles all around the country |
| Only offer a one dimensional service with no alternatives | Offer alternatives to move specialised freight |
| Prices seem too good to be true | Pricing similar to other carriers but offer added value |
| No technology solutions | Offer technology solutions to add value to their service |
Choosing a Quality Freight Forwarder
As with most things in life, choosing a quality freight carrier will prove more cost effective than chasing the cheapest price. Here are a few qualities you can look for to start your search for a quality freight provider:

SCHEDULED SERVICE - With the volumes that quality carriers move through their networks, they are consistently moving freight with a reliable delivery service nationwide
COMPREHENSIVE NETWORK - With a well-established network your freight only needs to be handled by one company
VISIBILITY - Information about your freight can be just as important as delivering it. Technology adds value to your business with instant access to tracking and freight information as your business needs it
HANDLING - With specialised equipment on hand and a commitment to training, a quality carrier will always handle your freight in the safest and most effective way
LONG TERM PARTNERS - With national or even worldwide networks and continual growth, this is a company you can partner with for years to come
FULL SUPPLY CHAIN - A company that offers all your logistics services can be the most cost effective, through overall efficiency and improved processes
Why Mainfreight?
Much more than "just a trucking company", we see ourselves as your logistics business partner. From across town to around the world, small to big and special handling. We go further to understand your needs and help your business grow.
At Mainfreight we pride ourselves in providing a quality service; by matching your needs with our services, you get a freight service that makes you money in the long term.
Contact our Team for further information on our services