Mainfreight USA Blog
Latest Update on East/Gulf Coast Strike Update 9-21-12
The Federal Mediation and Conciliation Service conducted negotiations with the ILA and USMX yesterday and have now announced they will continue negotiations for a 90 day period from end of contract, that takes us to December 29th.
Statement by FMCS Director George H. Cohen on Untied States Maritime Alliance and International Longshoremen's Association Labor Negotiations
"WASHINGTON, D.C. – I am pleased to announce that at the close of today's productive negotiation session, in which progress was made on several important subjects, the parties have agreen to extend the collective bargaining agreement due to expire on September 30, 2012 for a ninety (90) day period, i.e. through December 29, 2012. In taking this significant step, the parties emphasized that they are doing so "for the good of the country" to avod an interruption in interstate commerce.
This extension will provide the parties an opportunity to focus on the outstanding core issues in a deliberate manner apart from the pressure of an immediate deadline. The negotiations on the Master Agreement will be conducted during the same time frame as negotiations for local agreements. The negotiations will continue under auspices of FMCS. Due to the sensitive nature of these high profile negotiations, we will have no further comment on the schedule for the negotiations, their location, or the substance of what takes place during those negotiations."

Mainfreight USA fortunately has an extensive Mainfreight network of offices, worldwide. Our Mainfreight Asia locations have been working extensively with our numerous Ocean Carriers and have been successful negotiating and reducing the September GRI to an average range as below:
West Coast per 40' $300 - $400
West Coast IPI per 40' $300 - $400
East Coast per 40' $200 - $300
East Coast RIPI per 40' $200 - $300

We are also optimistic regarding the Federal Mediation and Conciliation Service (FMCS) who have scheduled mediation meetings to begin on Wednesday, Sept. 19th working towards an agreeable resolution to the completion of the ILA and USMX contract. We will keep you updated pertaining to any significant news.
For your reference and additional background information and news please refer to these websites:
Joc.com
Americanshipper.com
Ilaunion.org
Usmxlaborupdates.com
East/Gulf Coast Strike Update
Negotiations for a new International Longshoremen's Association contract covering dockworkers at East and Gulf Coast ports broke down Wednesday, and ILA President Harold Daggett warned that a strike is likely when the current contract expires Sept. 30. Shipper's and Importers should start planning a contingency plan which could include diverting freight to the west coast, Montreal, or shipping via air freight. Other ports would see a backlog in the event of this happening. We'll keep everyone posted on any further progress between the two sides. Please see below article as well.
USMX Urges ILA to Engage in "Meaningful" Contract Negotiations
DELRAY BEACH, Fla. (Aug. 22, 2012) - The United States Maritime Alliance (USMX) issued the following statement today regarding the status of negotiations between USMX and the International Longshoremen's Association (ILA) after three days of bargaining this week over a contract to replace the agreement that expires Sept. 30. The statement should be attributed to USMX Chairman and CEO James A. Capo.
"USMX and its member companies are disappointed with the uncompromising stand the ILA leadership is taking in the negotiations. The ILA's posture is contrary to the history of cooperation that has characterized these negotiations in the past and, since 1977, has led to agreements without any disruption to the supply chain and port operations on the East and Gulf coasts.
"Management's primary goal in these negotiations is to maintain the competitive position and market share of the ports by improving productivity and removing the inefficiencies that threaten the economic viability of the ports. For example, they include antiquated work rules that have made the Port of New York and New Jersey, which employs more ILA members than any of the 13 other East and Gulf Coast ports, the most expensive port in the world.
"Unfortunately, the ILA leadership has been unwilling to have a meaningful discussion about these archaic practices, among them "low-show" jobs that pay some ILA members for 24 hours of work even if they are only on the job for a few hours a day.
"ILA workers are among the most highly compensated workers in the country, on average receiving $124,138 a year in wages and benefits, which puts them ahead of all but 2 percent of all U.S. workers. They earn an average hourly wage of $50, more than double the $23.19 average for all U.S. union workers. They also pay no premiums and minimal co-pays and deductibles for a healthcare plan that is better than most U.S. employers provide their workers.
"At the Port of New York and New Jersey, 34 ILA members make over $368,000 a year in wages and benefits; one of every three makes over $208,000 a year - not including annual bonuses based on the weight of container cargo. These "container royalties" totaled $232 million in 2011 – or an average of $15,500 for ILA workers on the East and Gulf coasts.
"USMX and its members stand ready to engage in substantive negotiations with the ILA over these important issues and to reach an agreement on a new contract that addresses the challenges we face, preserves thousands of good jobs and, in the end, is fair to both sides. We urge the ILA leadership to make the same commitment."
How Mainfreight Stays Current with Ever-Changing Shipping Rates
With market and shipping trends changing at the blink of an eye, our international specialists continuously meet with carriers on a global and national level to read and understand market positions and challenges .Mainfreight USA currently has 14 current import service contracts, as well as 26 contracts in the export arena, servicing worldwide destinations – including: Asia, Europe, South America, Africa, Australia, New Zealand, Oceania, and Eastern Europe. Our export team manages emerging trade trending and will add service contracts where appropriate. Currently, Northern Africa is one to keep on your radar. Here, we are seeing a trend of low cost labor, flexible regulatory environments and favorable tax legislation – this means that large manufacturers will begin outsourcing production to these areas. What does this mean for you? It means that some of your new business may involve shipping to these areas…and where does Mainfreight play into the picture? Mainfreight will stay current with the market rates and trends in these newly emerging trade lanes. With constant negotiation metrics set in place, we are trying to achieve the best market rates for our customers based on the current market conditions.
Business is all about relationships. At Mainfreight, we build our relationships from the ground up – from our truck brokers to our airline specialists, everyone has an important place in our business. By growing these relationships with our carriers, we are able to provide better service and stronger pricing levels to our partners. The 'Mainfreight Team' likes the family approach in all facets of our business. With quick and ever-changing pace of the shipping and logistics industry, we know how important it is to keep our clients up to date with the most current trend and rate information.
Mainfreight Roadster –2012 Bonneville Salt Flat Racing
Every August, The Bonneville Salt Flats located in northwestern Utah, host their annual "Speed Week" racing event (which primarily involves 'Kiwi' racers) . The flats are simply a barren, rock-solid salt pan, which acts wonderfully as a racing surface for hot rod vehicles. The beauty of these yearly races is the fact that there is no monetary reward involved and therefore this racing is the purest of its kind. Racers in fact, are not even focused on 'beating' one another - these races solely come down to breaking speed records.
Mainfreight USA sponsored the Harris Family Car at this year's races. Chris Harris originally brought his race car over to the United States from New Zealand in 1988. After sustaining an injury during this race, his son, Lincoln decided to carry on his racing legacy. The Harris family is very dedicated to this 'Kiwi favorite' event, and has since restored a 1932 Ford Roadster to the likes of the original Harris race car. In addition, the newly renovated car proudly adorns the Mainfreight colors and insignia. The current record for the total (five mile) Speed Week race is 232 miles per hour – at this year's event, the 'Mainfreight Roadster,' was one mile per hour off of the world record (registering in at 231.6 miles per hour), at its three mile mark, and ultimately did not win the race due to engine complications. Steve Curl, a New Zealand native and now team member of Mainfreight USA was present at this year's races, and stated 'Once you get to the Bonneville Flats you can understand the true feeling of the salt – you will then understand the reason why people go to the salt.' The Mainfreight Group, largely prides itself on its culture and avant-garde corporate structure (or, as some would say; lack thereof). Mainfreight is very excited to have a great deal of involvement surrounding an event that has cultural meaning to the company as well as to its mother country.
Mainfreight, being New Zealand based, has always lent a helping hand to several parties involved in these races, especially when it comes to shipping of the race cars from New Zealand to the United States. With the recent establishment of "Mainfreight Automotive" in the United States, we will now offer services that not only assist in transportation between the two countries for the salt races, but also in transporting specialty cars, door to door, worldwide.
While Chris, Leslie and Lincoln of the Harris family were disappointed in a loss due to engine failure, one family member jokingly commented, "such is salt racing"! – But you can be sure they will be back for more next year.
The Harris Family Roadster with Mainfreight Insignia: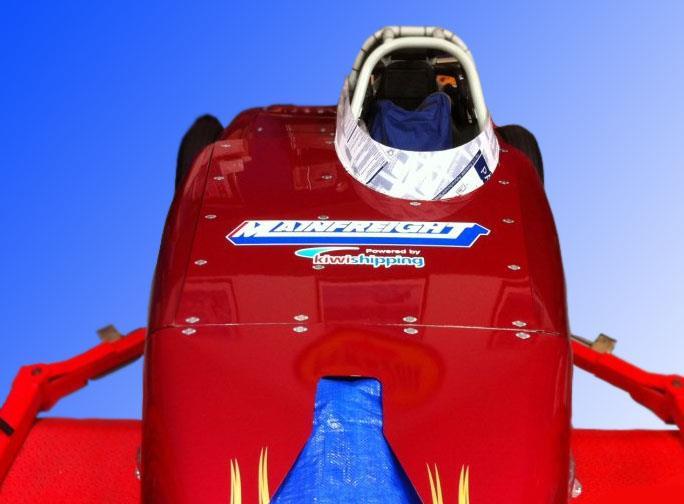 How to Reduce Logistics Costs
In a world of sales driven organizations, companies are always looking for ways to reduce costs, especially logistics costs. Sure, it costs money to purchase raw materials and actually produce a commodity – but often costs involved in the transportation of the commodity are overlooked. If logistics are not managed properly, these costs could escalate throughout the duration of a shipment.
That is where the Mainfreight USA approach to business comes into play. We approach the problems for our clients and deliver "out of the box", creative and sustainable solutions. Our models delivered through the Mainfreight USA network are variable cost solutions. Pay for capacity, volume and frequency when you need it and not in a long term contract or fixed base pricing model. There may always be a "cheaper" option for moving freight, in the supply chain logistics arena – but what it comes down to is the superior services that are being provided by our entire team – and as a result, the value realized by our clients.
Our clients reduce their total landed cost through scheduled consolidation. This planed supply chain model takes time and guess work out of a producer managing a logistics process which they may not be very familiar with. Mainfreight USA has trade lane, blocked space, air, ocean and domestic transport agreements that secure the best possible pricing for our clients. We also have the ability to provide customers with multiple quotes based on different service levels that may be necessary for a shipment.
While shipping may seem complicated and costly to those whom are new to the business, the bottom line is this: Mainfreight USA will consult with you and your stakeholders to determine what the most cost effective shipping solutions are and map the solutions in a working SOP.
Why Customer Service is Important to Mainfreight USA
At Mainfreight USA, our connection with our clients begins from the moment the phone is answered. This "moment of truth" will set the tone for the relationship. We work in an environment that creates service opportunities every day. We will fulfill the 100 year vision and create true partnerships if we are maximizing the opportunities and creating new ones at the same time. We see client connections as an open window to develop something much, much more.
Our Transborder Mexico and Canada customer service department is handled by one Mainfreight USA team member in particular – Johanna Toro. She starts with the data entry and manages every operational aspect of the transborder process - through POD and invoicing. In this position, she has the opportunity to help our clients through every step of the process.
Johanna focuses on proactive communications as the bench mark of her service standard, whether it is in the form of email, over the phone, or in person. She prides herself on being fast and honest about any issues they may surface, and because of her approach to communication – her customers appreciate this and have grown their operations with the Mainfreight network.
Customer service separates Mainfreight from the other carriers. The "Mainfreight Way' is about deep personal and business connections with our clients on all levels. Mainfreight clients have trust, confidence and are secure knowing that we will do everything possible to exceed expectations. We see these results in client feedback, positive reviews and word of mouth recommendations.
In the end, we are a family at Mainfreight and we want you to see this side of us. We invite you to explore our services, and become a part of the family that we are so proud of, and truly pride ourselves on.